Therapeutic Laser Series TLC-1000
Healing at the Speed of Light®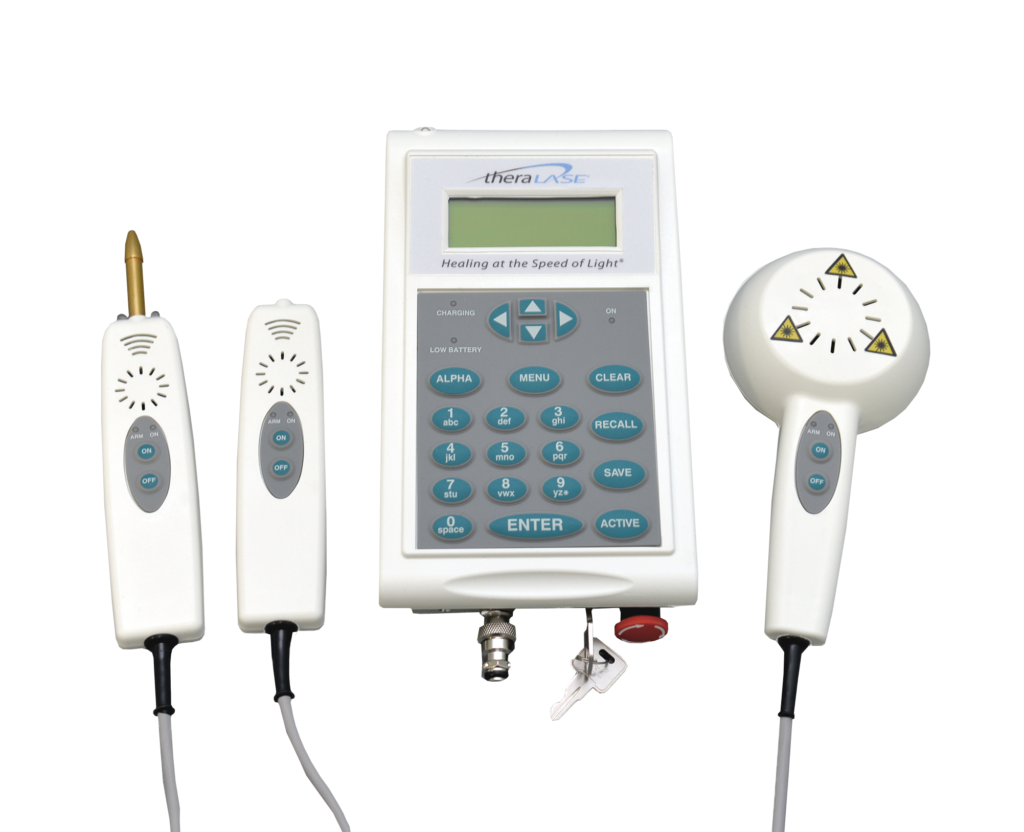 THERALASE® CLT SYSTEMS HAVE RECEIVED CLEARANCE BY HEALTH CANADA AND THE FDA REGULATORY AGENCIES FOR IN THE TREATMENT OF KNEE PAIN
Theralase® CLT systems have received full clearance by all major regulatory agencies for the treatment of knee pain. Its effectiveness as a CLT system has been demonstrated through successful patient treatments in healthcare clinics around the world, supported by evidence established through over 4,000 clinical studies. An example of this evidence was a clinical study ("Laser Therapy Applications for Chronic Joint Pain") submitted to the FDA by Theralase® to demonstrate the application of laser therapy for chronic joint pain. This randomized, blinded placebo controlled clinical study was completed with the objective of evaluating the Theralase® CLT as a treatment method for knee pain. The data obtained in the clinical study clearly demonstrated that the Theralase® CLT system provided significant pain relief in chronic knee pain.
WHAT IS COOL LASER THERAPY?
Theralase® professional grade superpulsed 905 nm NIR and 660 nm visible red CLT system accelerates healing by eliminating pain, reducing inflammation and accelerating tissue healing.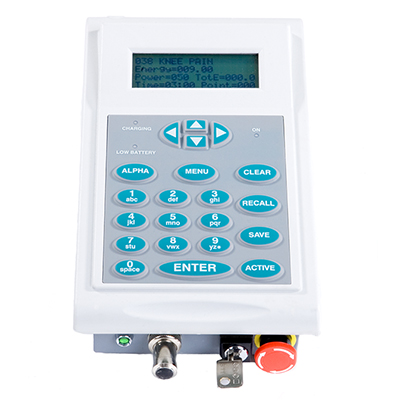 Portable light weight design.
NiMH battery operated (rechargeable)
Real time optical detector measures the amount of 905 nm laser diode optical power emitted from the laser probe
Able to program, Energy, Average Power and / or Treatment Time
Displays treatments in your preferred units of measure (Energy or Energy Density)
Retains up to 256 patient protocols in memory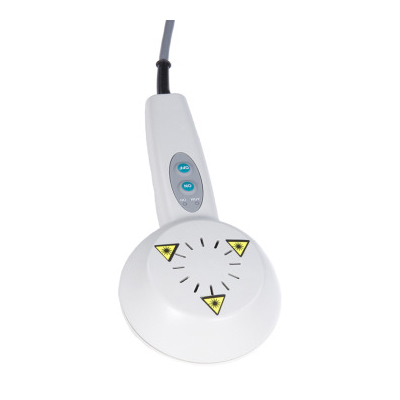 5 x 905 nm NIR laser diodes (100 mW average power, 50,000 mW peak power)
4 x 660 nm visible red laser diodes (25 mW average power)
Treatment Area: 20 cm2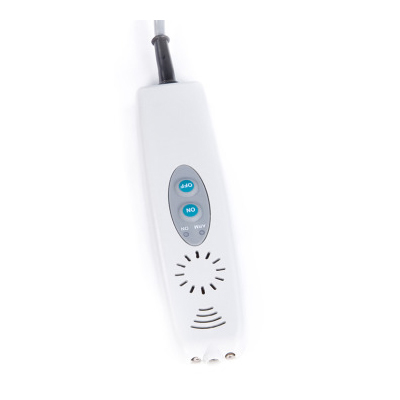 1 x 905 nm NIR laser diode (100 mW average power, 50,000 mW peak power)
2 x 660 nm visible red laser diode (25 mW average power)
Treatment Area: 3 cm2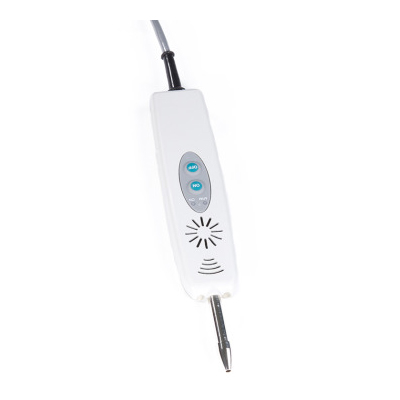 1 x 905 nm near infrared laser diode (collimated) (100 mW average power, 50,000 mW peak power)
Treatment Area: 0.1 cm2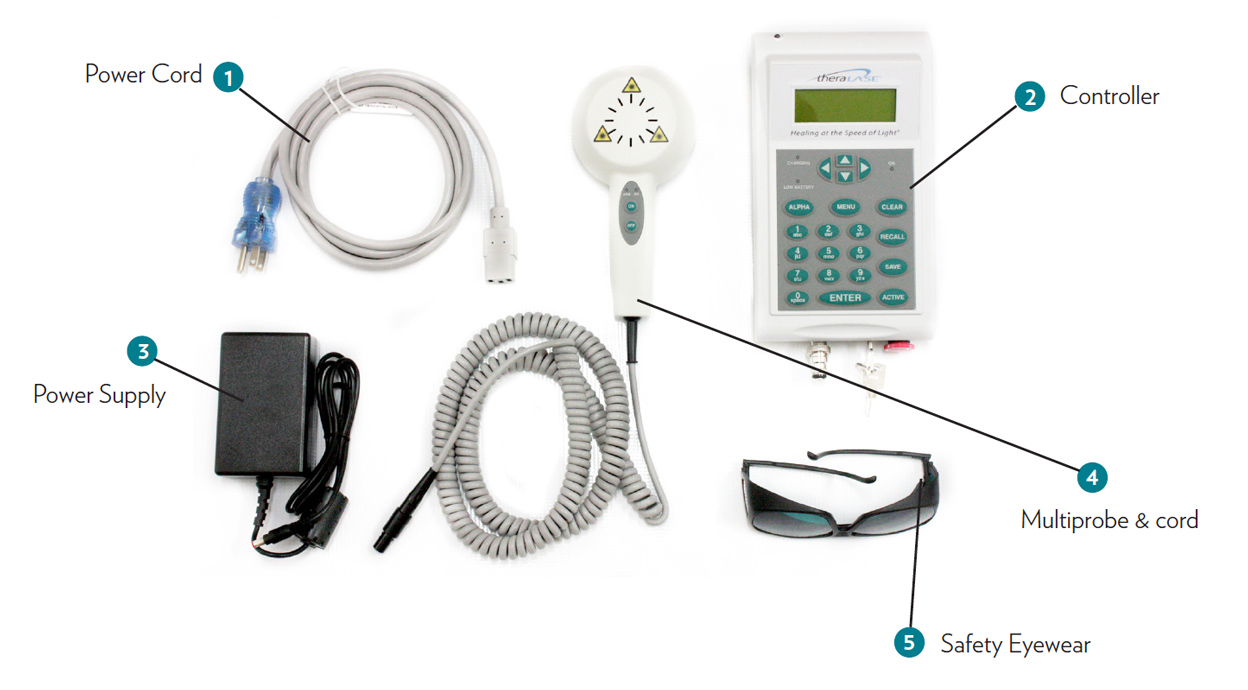 Theralase® TLC-1000 Series includes hard case, 2 pair of protective glasses and Operation Manuals.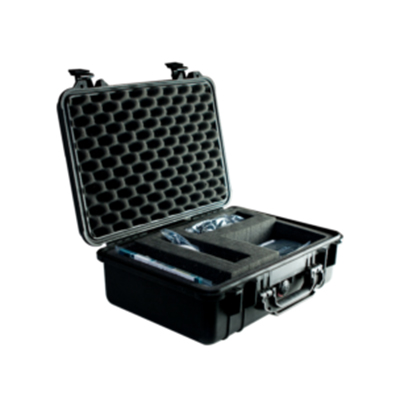 A wonderful addition to an existing TLC-2000 system, an additional probe allows you to treat more than one condition at the same time, or treat multiple patients concurrently, driving revenue and patient satisfaction.
Adding an additional tablet to an existing TLC-2000 system allows you to streamline your treatments by having front-desk staff enter patient data prior to treatment.
Adding a second power pack to your TLC-2000 system allows you to expand your laser therapy practice and treat patients in multiple locations in your clinic.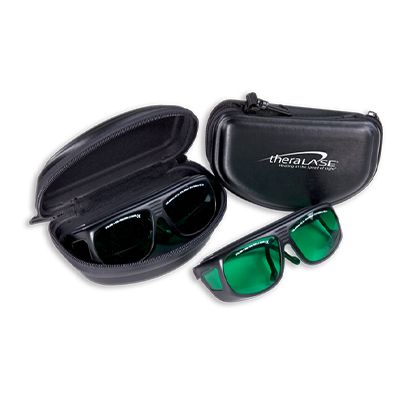 Adding additional straps to your TLC-2000 system supports hands-free applications when treating your patients.
This indestructible and waterproof medical laser case protects your Theralase® system from damage during transport.
Dimensions: 18.06" x 12.89" x 6.72" (45.9 cm x 32.7 cm x 17.1 cm).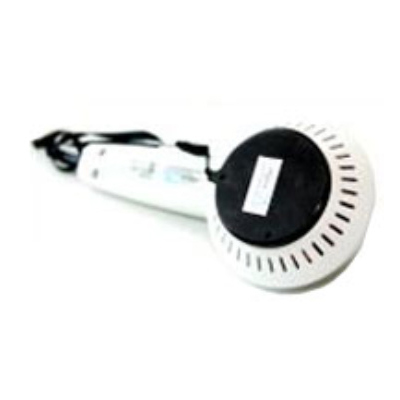 This specially designed eyewear protects patients and practitioners from 660 nm and 905 nm laser light wavelengths during treatment.
Acupuncture Acu-Point Locator
Laser safety eye cups are designed to cover the eye to ensure zero light penetration. For use with laser therapy treatments delivered close to the eye.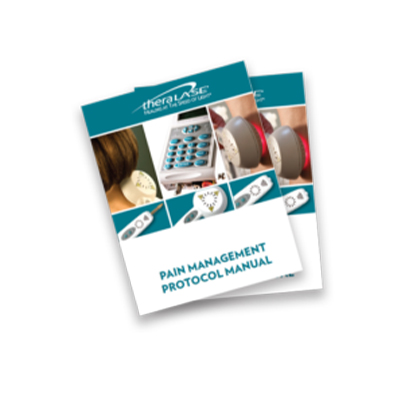 A versatile accessory, the hair separator ensures that all energy being transmitted by your TLC-2000 system reaches the surface of the skin, leading to improved outcomes for your patients.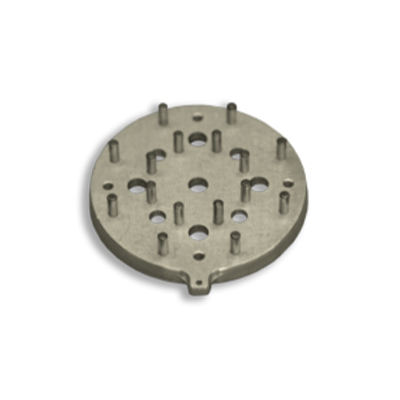 Probe holders conveniently support your TLC-2000 system, protecting your investment and providing you with easy access to the tools you need to deliver laser therapy treatments to your patients.