Healing at the speed of light®
Overview of Treatable Conditions for Companion Animals
Any condition associated with pain, inflammation and tissue healing can benefit from Theralase® Cool Laser Therapy.
It is commonly used for the following issues:
Arthritic joints, spinal stenosis, hip dysplasia
Soft tissue injuries (strains/sprains)
Post-surgical pain and tissue healing
Skin problems (i.e.: wounds, lick granulomas)
---
safe & effective treatment of pain
12 Pre-programmed Conditions*
*Over 4,000 clinical studies worldwide have proven the efficacy of CLT in the treatment of nerve, muscle and joint conditions. Theralase® lasers have been proven safe and effective in the treatment of knee pain and in off-label use the safe and effective treatment of numerous nerve, muscle and joint conditions by healthcare practitioners utilizing Theralase® CLT technology.
In-clinic treatment of nerve, muscle and joint conditions, other than knee pain, is at the discretion of the healthcare practitioner and may include the following: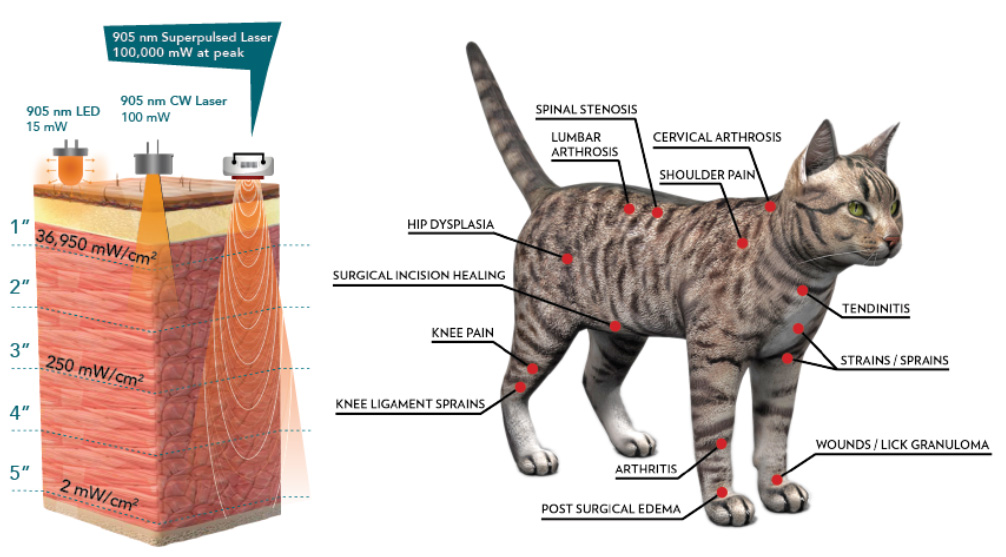 Unlike Light Emitting Diodes ("LED") and competitive laser technologies, Theralase's® patented TLC-2000 dual wavelength superpulsed CLT penetrate up to 5 inches into tissue to help accelerate healing, reduce inflammation, and eliminate pain at even the deepest sites.
"The Theralase laser is the most cutting-edge therapeutic laser on the market and has been a wonderful addition to my veterinarian practice. It provides superb safety and high efficacy to my canine and feline patients by providing pain relief, inflammation reduction and accelerated healing in just a few treatments. I routinely use it post surgically with excellent results. The first time I acquired the technology I used it on a cat with an injured tail and after just one treatment, the cat was pain-free and holding his tail high. Amazing! I also find it dramatically helps in marketing my clinic and differentiating my clinic from my competitors thus allowing me to advertise laser therapy without having the burden of purchasing a surgical grade laser. Overall, I can say that I am impressed with the company and the technology. Do yourself and your clinic a favour, get a Theralase"

Dr. Kent Ackerman, DVM
King West Vets, Toronto, ON
Download Animal Specialist Brochures
best in class cool laser technology
Our Therapeutic Laser Systems
Theralase® TLC-2000 Series
Industry-leading SMART Laser Technology
Theralase® TLC-2000 SMART Laser Technology is able to adjust laser parameters at the tissue surface to deliver an optimal energy density at tissue depth to safely and effectively heal injured tissue. This provides clinical protocol customization based on a patient's specific physical characteristics aimed at optimizing the CLT treatment delivered.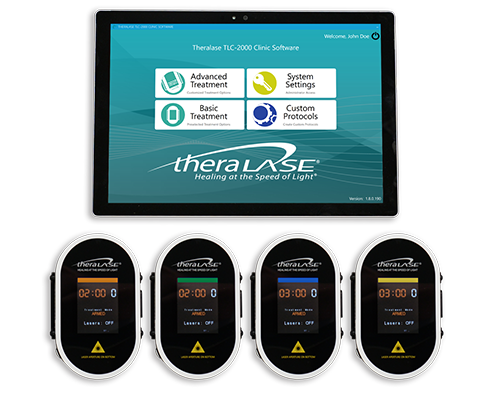 Grow Your Practice Revenue
In addition to providing you our latest cutting-edge technology, Theralase® will assist you to deliver effective treatment outcomes for your patients and grow your business, by:
Detailed digital training for all clinical staff
Customer service and technical support via phone or internet
Annual or unlimited product warranties
Software updates and upgrades
Automatic updates to programmed treatment protocols based on actual treatment data derived from Theralase® CLT systems worldwide
Marketing support to help you grow your revenue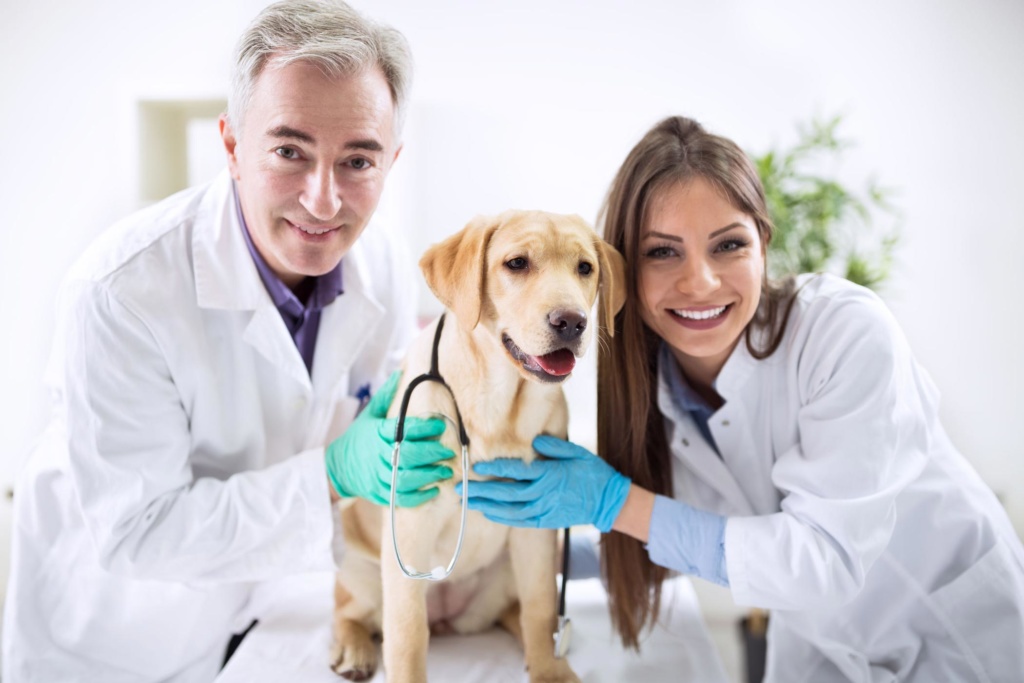 TLC-2100 system with 1 tablet and 1 laser probe
Request more information - Veterinarians